CVRI Small Animal Core Facility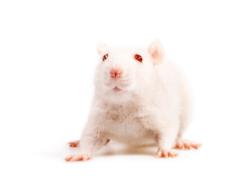 The Cardiovascular Research Institute Small Animal Core Facility provides Loyola University and outside researchers, including industry scientists, with a central resource for creating and studying cardiovascular physiology and pathophysiology in animal models on a fee-for-service basis. While the central focus of the facility is cardiovascular research, the techniques employed are useful to a number of investigators in other fields. Currently, the facility is conducting studies on burn and shock trauma, gene targeting, heart failure and other cardiovascular diseases. The core also provides laboratory teaching for various surgical techniques and echocardiography.
Benefits
Core facilities have become a vital resource in today's research environment. As Federal support of research continues to decline, it is essential that Loyola offer centralized resources allowing the scientific community access to instruments, technologies, and services that may otherwise be unattainable. The CVRI small animal core facility is one of several core facilities open to Loyola University and outside researchers. Here are just a few ways we can contribute to your outstanding research:
We provide customized model development to meet the individual needs of the researcher at a fraction of the cost of an initial equipment investment and maintenance.
We assist researchers in writing internal IACUC and IRB protocols.
Data is produced efficiently and consistently.
Our staff has a broad knowledge base in cardiovascular physiology and animal surgery.
Equipment
NEW: CVRI has recently invested in TSE Stellar Telemetry equipment for mice and rats together with Biopac Software and Analysis.
The implantable technology allows for monitoring of multiple animals housed together, using the same receiver, and thus enabling group housing and the ability to monitor social interactions. To encourage new users, CVRI has invested in three reusable implantable mouse probes and three reusable implantable rat probes that are capable of measuring pressure, temperature and activity. More information about the TSE system can be found here.
In addition to the new system above, the CVRI Small Animal Core Facility has a large variety of equipment, including:
Visualsonic Vevo 2100 with 4 probes for performing echocardiography in small animals ranging from mice to rabbits.
Sequoia Echocardiographic Machine for large animal echocardiography
Zeiss ophthalmic surgical/operative microscope OPMI 6-SDFC
Omano dissecting microscope with light source
Ventilators for both rats and mice
Transonic PV Catheters for rats, mice and rabbits
Stereotaxic apparatuses for brain cannulation/drug delivery
Intubation kits for small animals
Isoflurane anesthesia delivery systems
Drug infusion pumps
STARR Pulse Ox
Accuscan Treadmills
DSI Acquisition System & Implantable probes for Arterial Pressure or ECG monitoring in mice or rats
iWorx ECG monitoring system
Metabolic cages for
Surgical tools and sterilizers
Custom Acquisition & Analysis Services
The small animal core facility can also help with custom programming for physiological recording and data analysis. Here are examples of previous programming projects:
Data acquisition program for cardiomyocyte force production (LabView).
Piezo motor control program for millisecond- and micrometer-scale length changes of cardiomyocytes (LabView).
Analysis program for cardiomyocyte force/pCa data (LabView).
Analysis and curve fitting program for measuring rate of cardiomyocyte force redevelopment (LabView).
Control program for a motorized perfusion system (LabView).
Control program for a gravity perfusion system (LabView).
ImageJ plugin for measurement of sarcomere length (Java).
ImageJ plugins for automated image measurements and batch processing (ImageJ Macro Language, Java, Python).
Data file parsing scripts (Python).
For more information contact Dr. Margaret Novak, Ph.D.
Recent Publications
1. Abrol N, de Tombe PP, Robia SL. Acute Inotropic and Lusitropic Effects of Cardiomyopathic R9C Mutation of Phospholamban. The Journal of Biological Chemistry. 2015;290(11):7130-7140. doi:10.1074/jbc.M114.630319.
2. Pallikkuth S, Blackwell DJ, Hu Z, et al. Phosphorylated Phospholamban Stabilizes a Compact Conformation of the Cardiac Calcium-ATPase. Biophysical Journal. 2013;105(8):1812-1821. doi:10.1016/j.bpj.2013.08.045.
3. Bidwell P, Blackwell DJ, Hou Z, Zima AV, Robia SL. Phospholamban Binds with Differential Affinity to Calcium Pump Conformers. The Journal of Biological Chemistry. 2011;286(40):35044-35050. doi:10.1074/jbc.M111.266759.
4. Kottam, A., J. Dubois, A. McElligott and K.K. Henderson. Novel Approach to Admittance to Volume Conversion for Ventricular Volume Measurement. Conf Proc IEEE Eng Med Biol Soc. 2011:2514-7, 2011
5. Govindan S., A. McElligott, S. Muthusamy, N. Nair, D. Barefield, J.L. Martin, E. Gongora, K.D. Greis, P.K. Luther, S. Winegrad, K.K. Henderson, and S. Sadayappan. Cardiac myosin binding protein-C is a potential diagnostic biomarker for myocardial infarction. J Mol Cell Cardiol. Jan; 52(1): 154-64, 2012.