Simulation Experiences
TeamSTEPPS® Simulation Sessions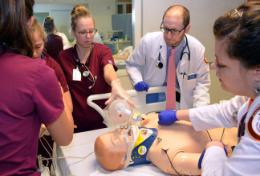 Cutting-edge simulations of real life patient care situations in the hospital, clinic and community are integral parts of health professions education at Loyola. Faculty from the Schools of Nursing and Medicine are collaborating to implement high-fidelity interprofessional simulation experiences for students. The TeamSTEPPS curriculum was developed by the Agency for Healthcare Research and Quality and the Department of Defense. TeamSTEPPS is a highly interactive simulation experience designed to enhance team dynamics with the ultimate goal of improving patient safety and outcomes. Loyola has been using TeamStepps for several years.
These monthly, 4-hour IPE sessions take place at Loyola University's Walgreen Family Virtual Hospital. The participants are senior Niehoff School of Nursing students in both the ABSN and 4-year programs (as part of their GNUR 383 Leadership course), as well as 4th year Stritch medical students in their Emergency Medicine clerkship. Students complete surveys and quizzes prior to the session related to their knowledge of TeamSTEPPS principles and their attitudes and perceptions of healthcare professionals in a different discipline. They also review an e-module regarding TeamSTEPPS and a video on simulation environment.
On the day of their IPE session, they are put into small groups comprised of both nursing and medical students. They complete a simulation, debrief on it, attend a reinforced learning session regarding TeamSTEPPS, and then participate in a second simulation and debriefing. Our work has shown a positive difference from pre to post on knowledge, attitude, and skills.
In Summer 2016 we piloted more challenging cases in terms of clinical management. As a result of one medical student's STAR research project, stroke care has been the emphasis of both simulation cases as well as the reinforced learning. The data is being looked at to see how the use of simulation improves students' abilities to manage stroke patients.
The poverty simulation is a large-scale, three-hour simulation where participants role play one month in the lives of families living in poverty. Students adopt the roles of impoverished families and must interact with the many community agencies that both help and hinder survival of the poor in our society. This interprofessional experiential learning simulation is offered at the Lake Shore Campus, Water Tower Campus, and Health Sciences Campus during the fall and spring semesters and attracts 80-90 participants for each half day simulation. All Loyola University faculty, students, staff, and community agencies are welcome to attend.
In Fall 2016, the Poverty Simulation was part of the teaching and events of Hunger Week, a Loyola tradition for over 40 years.
Care Coordination Simulations through an Interprofessional Lens

Care coordination for patients with complex medical problems, such as heart failure, often involves multiple providers representing various specialties in health care.
To prepare our students to be effective beyond their own areas of expertise, the I-TIE leadership coordinated a day of interprofessional care coordination simulations. On April 6, 2017, dietetic interns, nursing and medical students worked together to assess and develop plans that coordinated care for two different patient scenarios. Standardize patients facilitated the student experience by providing interaction which required the students to provide care to complex patients with of heart failure and a hip fracture considering the patient's medical history, assess physical status, and observe pyscho-social context. Each scenario included an initial primary care appointment and a follow up home visit using the Walgreen's simulation lab on the third floor of the MNSON building.
Students had the opportunity to participate in a simulation, observe their peers during a simulation and also discuss during debriefing sessions so that valuable insights could be shared from each other. Joanne Kouba, PhD, RD, LDN