What is Public Health?
Public health is the science of protecting and improving the health of families and communities through promotion of healthy lifestyles, disease and injury prevention, and the detection and control of infectious diseases.
Public health helps improve the health and well being of entire populations. These populations can be as small as a local neighborhood, or as big as an entire country. It is the science and art of promoting health by understanding the processes of health including: social, mental, spiritual and physical well-being. Public health professionals strive to improve the health of communities through education, promotion of healthy lifestyles, and research for disease and injury prevention.
The Impact of Public Health
The dramatic achievements of public health in the 20th century have improved our quality of life: an increase in life expectancy, world wide reduction in infant and child mortality, and the elimination or reduction of many communicable diseases.
The impact of public health has impacted our lives tremendously, by increasing life-expectancy, eliminating diseases that once took millions of lives, preventing injuries, preparing for natural disasters, and setting policies that continually improve the way we live.
Advances in public health have greatly enhanced the way we live. Below is a list of the top ten public health achievements in the last 100 years:
Vaccinations
Motor vehicle safety
Work place safety
Control of infectious diseases
Advances in medicine particularly concerning heart attacks and strokes
Healthier and safer foods
Healthier mothers and babies
Family planning
Fluoridation of drinking water
Recognition of tobacco as a health hazard
Information on Public Health Issues
Injuries are the leading cause of death for Illinoisans 1-44 years of age!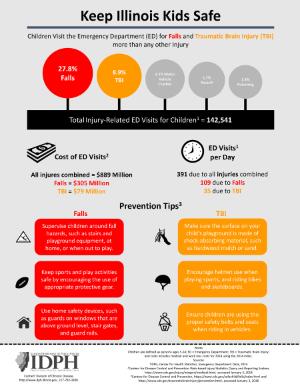 Take a look at this new Keeping Kids Safe Info Graphic which highlights the leading causes, falls and traumatic brain injuries, of emergency department (ED) visits among children (5-14 years of age); the costs associated with the ED visits; and prevention tips to keep Illinois kids safe.
There are two types of injury intent – Unintentional and Intentional.
Unintentional injuries include motor vehicle crashes, burns, falls, poisonings, sports related injuries, and occupational injuries.
Intentional injuries include homicides, assaults, suicides, suicide attempts, child abuse, and elder abuse.
Illinois Dept. of Public Health, Injury and Violence Prevention.
The Community Guide.org - Your online guide of what works to promote healthy communities
Experts Raise Red Flag over Fatty Liver Disease; Medscape, 10/24/17
Chicago Health Atlas Access health data for Chicago and your community