Get to Know Dr. Sam Marzo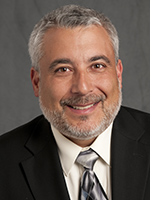 Sam Marzo, MD, was appointed interim dean of the Stritch School of Medicine earlier this year. While Dr. Marzo is currently trying to meet with many members of the Stritch community, he took the time to answer a few questions about Stritch and his short-term leadership plans.
What do you like about teaching at Stritch/practicing at Loyola?
I love how the students and residents are very eager, engaged, want to learn, ask great questions, and are very interested in helping people.
Favorite medical school memory?
Going out with my friends to decompress after a tough day or test.
What are your short-term goals for your first months as interim dean?
Increase communication, be transparent, meet with as many people as I can to understand their issues and concerns, and try to enact change.
What are your research/clinical interests?
Right now, our Neuroscience Translation Lab under Dr. Eileen Foecking is investigating traumatic brain injuries in mice and ways to improve function. This has great translational potential for patients and our veterans. We are also looking at nanoparticles as a means of delivering medications to the inner ear thru the ear drum to treat hearing loss.
Why should a prospective student choose Stritch?
We have a great culture here. We have wonderful, devoted teachers, educators, staff, nurses, and physicians. We try to create a unique learning environment.
Are there any changes you're implementing that faculty, staff, and students should be aware of?
There is a movie that I recall called "Things Change" and I believe it is important for people to realize that life is change and that change is inevitable and necessary. We have a great team in place at Loyola under President Rooney's leadership as well as a very devoted Provost in Dr. Callahan. We also have a great clinical partner with LUHS/Trinity Health under Shawn Vincent's leadership. Together, we are well-positioned to anticipate and facilitate change and adapt to the changing health care environment affecting our patients, students and faculty.
How can people reach you if they have a question/concern?
Right now, I'm meeting with as many people as possible to learn about issues important to Stritch and the broader Health Sciences Campus and Loyola communities. In the near future, I hope to have periodic (and informal) lunch and/or breakfast meetings with students and other faculty and staff members. People always can e-mail administrator Nancy Villareal to set up meetings with me or e-mail her with issues to be brought to my attention. I also will be at important upcoming Stritch events such as Match Day and Second Look. I'm available and I want to hear from you—please reach out with any questions or concerns.