Stritch faculty invited to serve on Central Curricular Authority
The Central Curricular Authority (CCA), the committee responsible for oversight of the SSOM Curriculum, seeks a biomedical and translational science faculty member with an interest in undergraduate medical education to serve as a member of the CCA.
About the CCA
CCA members are expected to attend regularly scheduled meetings on the second Monday of each month, 10 a.m.-12 p.m. in the SSOM (video conferencing with physical distancing guidelines in place) and participate in discussions and voting on curricular matters. Members participate as members of subgroups and/or task forces as needed.
Evaluation Subcommittee of the CCA
The Evaluation Subcommittee of the CCA seeks biomedical and translational science faculty members and clinical faculty members to serve on the subcommittee.
The Evaluation Subcommittee is responsible for the periodic and systematic review of individual curricular components (ie courses and clerkships) of the SSOM. The review process plays an integral role in the school's continuous curricular quality improvement efforts.
Longitudinal Outcomes Subcommittee of the CCA
The Longitudinal Outcomes Subcommittee of the CCA seeks biomedical and translational science faculty members and clinical faculty members to serve on the subcommittee.
The Longitudinal Outcomes Subcommittee uses a data-driven process to assess outcomes that enables the SSOM to improve the overall quality of our graduates while identifying at risk students earlier in the curriculum. The goal of the subcommittee work is to lead to a comprehensive understanding of where our students are at every point in the four-year curriculum as they progress towards performing the Entrustable Professional Activities at a satisfactory level to graduate and begin residency.
Learn more about the CCA and its subcommittees.
Interested faculty are requested to send their CV and a statement of interest in serving on a respective committee to the CCA Chair Theresa Kristopaitis, MD, by August 31, 2020.
Health Sciences Newsroom
Stay up to date with news about Loyola University Chicago's Health Sciences Campus.
Realigning teams at the Health Sciences Campus
Health Sciences Office of Informatics and Systems Development Team joins Information Technology Services
The Provost's "100 Days at Loyola" message shared on May 14, 2020, shared a direction to move to a One Loyola model that included an "opportunity to coordinate our strengths and resources from across the University to address problems that otherwise we could not." This included a reorganization of the operational infrastructure across campuses. As part of this plan, the Health Sciences Office of Informatics and Systems Development Team joins ITS effective July 1. The information below shares more detail on how we will align teams and skillsets to position ITS to advance and evolve services and support for academic technology and instructional design, application development and support, and infrastructure and research support.
Following is a summary of the team additions and adjustments:
Amy Hoyt, Stacey Zurek and John Schneider will join the Instructional Technology & Research Support (ITRS) team led by Tim Walker. Together, Amy, Stacey, and John bring years of experience supporting our faculty and students. They will continue to primarily support our Health Sciences Campus and Schools, and work closely with the Learning Design Engineers on projects and instructional systems support.
Related, Chris Sinclair and Paul Zlatkin will begin reporting to Sue Crowell to create a cohesive Classroom Support team. Sue, along with Kathy Chavez Dominik and Wes Morris will form the core leadership of classroom technology support for all campuses. Sue, Kathy and Wes will continue to report to Tim Walker.
Joe Koral will join the Server Operations team reporting to Jeff Apa. In addition to his server administration and data center management experience, Joe also brings knowledge supporting the open-source research infrastructure for Informatics & Clinical Research.
Jack Moy, Greg Klitz, Jackie Heavey, and Ross Naheedy (consultant) will report to Jim Sibenaller primarily supporting the custom application portfolio for the Stritch School of Medicine academic and administrative operations, and the transition or sunset of the legacy LUHS application portfolio. Ron Price will serve in an advisory role as needed in this transition.
Ron Price will report to me as part of the ITS Leadership Team, and will continue to lead the growth and innovation of the "Informatics and Clinical Research" team supporting healthcare informatics and clinical research. This team is comprised of Neelam Balasubramanian, Steven Birch, Jason Boyda, Lily Cai, Dan Valdez, and Susan Zelisko. The expected growth in the Health Sciences research profile will require key partnerships with the Provost Office, Health Sciences Deans and the Vice Provost of Research. Ron and I will be working closely with these academic leaders in the coming months to create new processes and redefine roles and responsibilities that will position the services of the Informatics and Clinical Research to support research operations and the new strategies being developed.
These alignments create new learning opportunities for teams and individuals, occasions to problem solve and share best practices, and a better ability to cross-train or flex resources when demand requires it. There are many who have participated in these discussions to help shape this plan – please accept my sincere gratitude for your dialogue, openness to change, and commitment to Loyola so that we continue progress to support the One Loyola vision and a future state that delivers connected, contemporary and streamlined services to advance Loyola's strategic initiatives.
Stritch faculty invited to apply for Assistant Course Director of Patient Centered Medicine 1
The Stritch School of Medicine's Central Curricular Authority is seeking applications from faculty members interested in serving as the Assistant Course Director of the first year medical school course Patient Centered Medicine 1 (PCM-1). As the first of the three-year clinical skills curriculum courses, PCM-1 is primarily focused on teaching patient-centered clinical skills. The Assistant Course Director will work with the Course Director in implementing the course and its assessments.
The PCM-1 course primarily focuses on interview and communication skills (including counseling and oral and written presentation) and introductory physical exam skills. As part of SSOM curricular revision, the course has been restructured for academic year 2020-21.
The curriculum is delivered in multiple ways. Lectures provide background information and student incorporation of basic knowledge is monitored and honed in weekly small group discussions. Physical exam sessions are taught with standardized patients in the clinical skills center and practical application of all skills is assessed via Objective Structured Clinical Examinations (OSCEs) as a capstone assessment.
The Assistant Course Director will be expected to eventually deliver several lectures as well as serve as a facilitator in the weekly course small groups that run from August through May.
Interested faculty with practical experience in clinical skills education and creative curricular innovation are encouraged to apply by submitting:
Their

curriculum vitae.

A statement outlining their qualifications for serving as Assistant Director, and interest in undergraduate medical education.
Explore the outline of the Assistant Course Director's general responsibilities.
Application materials should be submitted to Theresa Kristopaitis, MD, CCA chair by July 22, 2020.
Stritch Graduate Students
Win Top Honors at
Loyola's Three Minute Thesis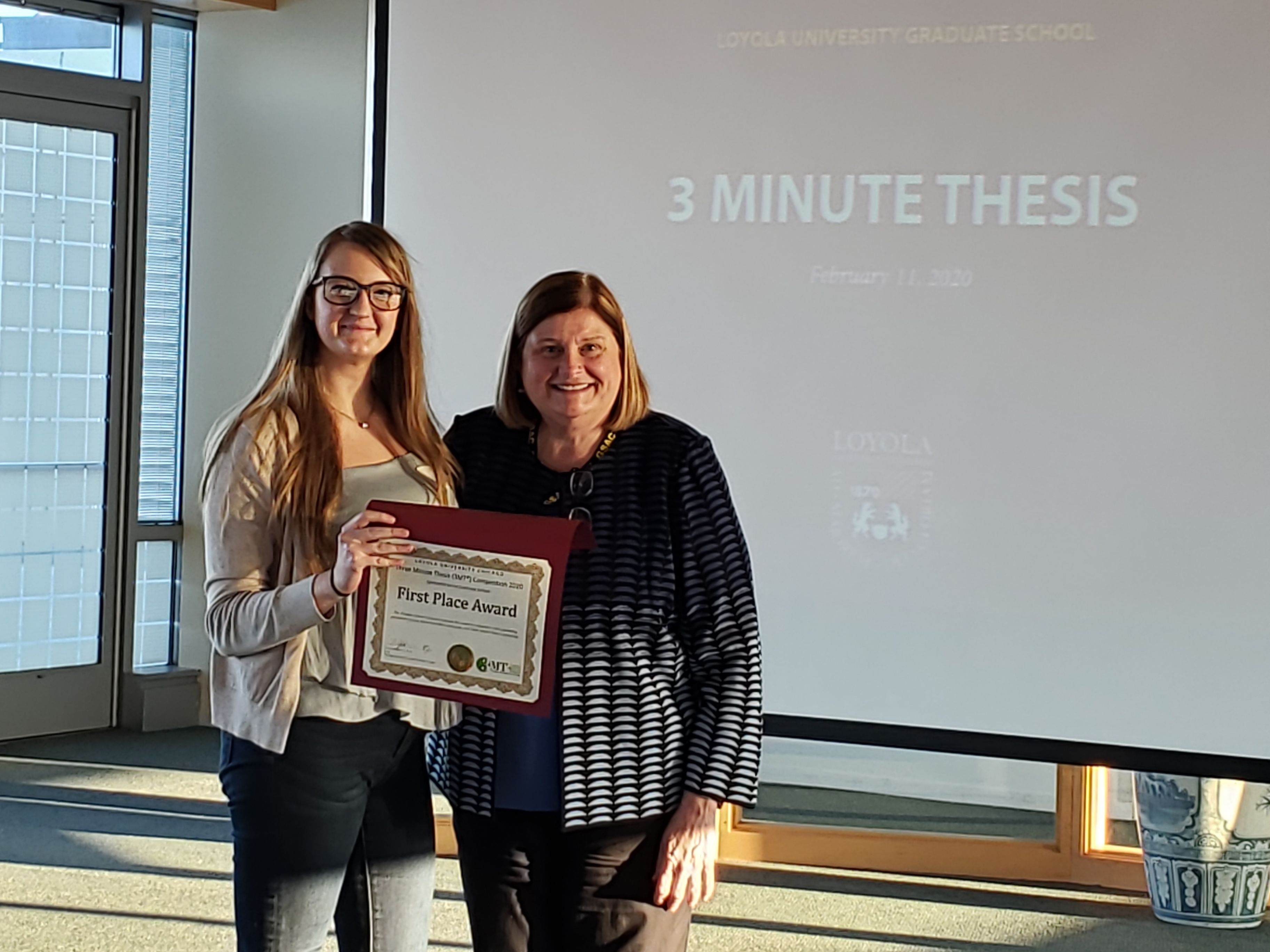 Congratulations to Natasha Lenart and Anya Yogerst-Nikolai, first and third place winners of Loyola's Three Minute Thesis 2020. The competition invites masters and PhD students from a wide range of Loyola's graduate programs to demonstrate their research communication skills by sharing the content and impact of their work to a general audience.
First place winner Natasha Lenart from Stritch's Cellular & Molecular Oncology Master of Science program shared information on her research in a presentation titled, "Cancer Vaccines and Immunotherapy." Lenart will represent Loyola in the regional Three Minute Thesis competition taking place at the Midwestern Association of Graduate Schools in April. Third place winner Anya Nikolai-Yogerst is a PhD student in the Microbiology & Immunology program.
---
Students for Science: Loyola
Engages
Proviso High Schoolers
in
Outbreak Simulation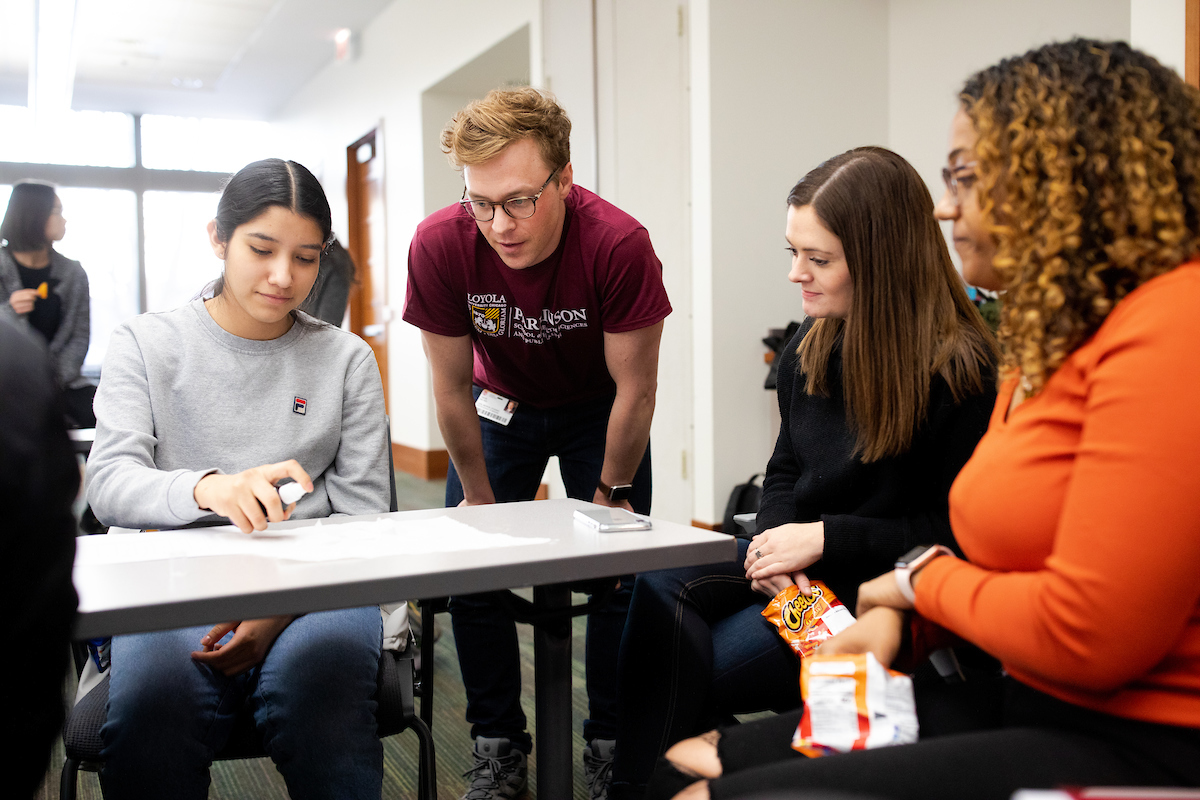 When high school students think about health care career options, epidemiology and public health might not be at the top of the list. To help educate more high schoolers on the opportunities in the public health field, Loyola graduate students invited them to their college classroom to get a sense of what it means to be an epidemiologist.
"We want to show these students that careers in public health hold the potential to positively impact millions of lives and that it can be fun, too!" says Travis Nielsen, a student in Loyola's dual-degree MD/MPH program at the Stritch School of Medicine and the Parkinson School of Health Sciences and Public Health.
Nielsen is part of the new Loyola University Public Health Association (LUPHA), a student organization formed in 2019 by undergraduate and graduate students studying public health. Through the Proviso United with Loyola Students for Educational Enrichment program (PULSE), LUPHA invited 60 Proviso High School students to participate in an outbreak simulation and learn more about the discipline of public health. During the simulation, students had the chance to act as young epidemiologists on the hunt for the source of an infectious agent causing illness at a potluck.
While LUPHA hopes the hands-on experience inspires a few of the high schoolers to pursue a career in public health, it also aims to educate them about the importance of public health and its impact on community well-being.
Learn more about Loyola's BS in Public Health and MPH program. To get involved in LUPHA, email LUPHAorg@gmail.com.
---
January Office Moves on the Health Sciences Campus
As part of the space planning process underway at Cuneo Center, several faculty and staff have relocated. These moves will group functional areas within the third and fourth floors of Cuneo Center and the CTRE's first floor.
SSOM - Offices of the Vice Dean for Research and Vice Dean for Professional Formation – Cuneo Center Suite 300
John Hardt: Cuneo 318
Mike Budzynski: Cuneo 319
Meharvan (Sonny) Singh: Cuneo 327
Maria Pelc, Samantha Bynum, and Laura Bartosik will be located at workstations outside of Drs. Singh's and Hardt's offices
Office of the Vice Dean for Medical Education
Neil Clipstone: Cuneo 317
Sandra Cavalieri will be located at a workstation in this suite
Parkinson School of Health Sciences & Public Health – Cuneo Center 4th floor (south)
Elaine Morrato: Cuneo 428
Kathy Bobay: MNSON 4506 (returning to her faculty office)
Roberta Dvells and Kristen Pesavento will be located at workstations in Suite 420
MNSON - Associate Dean of Research
Office of Strategy and Innovation – CTRE
Margaret Callahan: CTRE 133
Ron Price: CTRE 132
Craig Duetsch: CTRE 131
Tracy Bielecki Smith will be located at a workstation in this suite
Office of the President - Cuneo Center 4th floor (north)
President Jo Ann Rooney: Cuneo 412
Jim Flavin: Cuneo 414
Office of the Provost – Cuneo Center 4th floor (north)
Provost Norberto Grzywacz: Cuneo 411
University Finance Office - Cuneo Center 4th floor
Joanna Nobazna-Wasilewska: Cuneo 416
---
Update your Email Signature
Since we transitioned from "Health Sciences Division" to "Health Sciences Campus," we encourage all faculty and staff to update their email signature according to the template below:
Jane Doe, PhD
Title
Department
School
Health Sciences Campus
Location (ex. Cuneo Center – 410B)
2160 S. First Avenue
Maywood, IL 60153
P: XXX.XXX.XXXX
E: jdoe63@luc.edu

Loyola PhD Student Awarded 2020 American Heart Association Predoctoral Fellowship
Congratulations to Tommy Martin for being named a 2020 American Heart Association (AHA) Predoctoral Fellow. Martin is a second year Ph.D. student studying cell and molecular physiology. His project "Determining the Role of BAG3 at the Cardiac Myofilament in Health and Disease," helped him secure the two-year AHA grant.
While there haven't been any publications on the project, yet, Martin summarizes his work below:
The project is a study of the heat shock protein co-chaperone BAG3, which is highly expressed in many tissues, including the heart. Many mutations to BAG3 cause heart failure and heart failure is associated with a decrease in BAG3 in heart failure patients without pathogenic mutations. The evident importance of BAG3 in the heart is clear from many clinical studies, but there is very little known regarding its function and how this role is disrupted by mutation and/or heart failure. This project is focused on clarifying BAG3's role in the heart and determining how some BAG3 mutations lead to heart failure.
---
Steven Edelstein, MD, Named Chair of Department of Anesthesiology and Perioperative Medicine
Professor Steven Edelstein, MD, has been named chair for both the Stritch School of Medicine's department of anesthesiology and perioperative medicine and Loyola University Medical Center's department of anesthesiology, effective December 1, 2019.
Edelstein joined Stritch in 1997 as Assistant Professor of Anesthesiology. Since then, he has held several positions in the department and served on numerous committees aimed at quality and performance improvement and advancing the practice of anesthesia. He is a four-time recipient of the Department of Anesthesia's "Teacher of the Year" award and two-time recipient of the "StephenSlogoffBest Teacher" award.
Edelstein has authored dozens of abstracts, research articles and book chapters on anesthesia medicine. He earned his medical degree from the University of Cincinnati College of Medicine and completed residencies at University of Pittsburgh Montefiore Hospital and the University of Pittsburgh School of Medicine.
---
Loyola Medicine Names New Chief Nursing Officer
Timothy M. Carrigan, PhD, RN, FACHE, NEA-BC, has been named chief nursing officer at Loyola University Medical Center, and will join the LUMC leadership team effective December 2, 2019.
Tim is a progressive nurse leader with more than 15 years of experience in academic environments. He has a record of innovative strategic leadership focused on health outcomes and is nationally recognized for improving patient care delivery and care coordination.
Most recently, Tim served as chief administrative officer for the cardiac service line at Rush University System for Health and is an assistant professor in the College of Nursing. He also held positions with Advocate Illinois Masonic Medical Center, University of Illinois Hospital & Health Sciences System, and Northwestern Memorial Hospital.
Tim received his Bachelor of Science in Nursing and Political Science from Millikin University and a PhD in Nursing Sciences from the University of Illinois at Chicago. He is a Fellow in the American College of Healthcare Executives and a Nurse Executive of the American Nurses Credentialing Center.
---
Scientist of the Ye

ar Awards Announced at 40

th

Annual St. Albert's Day of Research
Loyola's Health Sciences Campus celebrated the 40th Annual St. Albert's Day of Research on Thursday, October 24, with posters, abstracts, and oral presentations from more than 260 students from the Graduate School, Stritch, Niehoff, and Parkinson.
Congratulations to all the 2019 St. Albert's Day winners: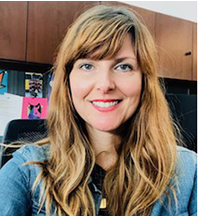 Junior Scientist of the Year
Virginie Mansuy-Aubert, PhD
Assistant Professor, Department of Cell and Molecular Physiology
Stritch School of Medicine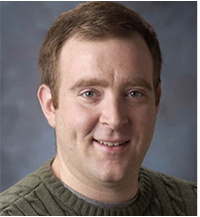 Senior Scientist of the Year
Edward Campbell, PhD
Professor, Department of Microbiology and Immunology
Stritch School of Medicine
Graduate School winners:
1st place - Enya Qing, Microbiology and Immunology
2nd place - Sarah Talley, Integrative Cell Biology
3rd place - Kevin Burbidge, Neuroscience
SSOM Medical Students:
1st place (tie) - Jeanine Justiano (MS3), Brittany Watchmaker (MS4)
2nd place (tie) - Dhruv Patel (MS2), Adriana Cantos (MS2)
3rd Place - Vikrum Jain (MS2)
---
Flu Shots 2019
Free on-site immunization for all Loyola Medicine (LUMC, Gottlieb and MacNeal) staff and volunteers.
On October 8, LUMC began giving flu shots to eligible inpatients, and on October 11, the flu vaccine was distributed to ambulatory care clinics for use. We are now delighted to announce that annual free on-site flu vaccination for staff will begin next week.
For LUMC, mass flu shot administration will occur Monday, October 21, through Wednesday, October 23 following the schedule below.
Fitness Center Lobby 6 am – 4 pm
Nursing Office, Room 1328, 5 am – 8 pm
Burn Conference Room, Room 7313, 7 North, 5 am – 8 pm
Shots are also available in Employee Health Monday through Friday 7:30-4:00
For Gottlieb and MacNeal, flu shots will be available through employee health. Final details of availability are coming soon.
Free influenza immunization (flu shots) can be obtained immediately at local CVS and Walgreens pharmacies.
For those who do not want to wait, use vaccinefinder.org to find low or no cost options in your area. CVS locations will offer free vaccinations with insurance through Trinity Health/Loyola Medicine, and it is recommended that you make an appointment in advance.
This may be an important option for staff with a high risk for poorer outcomes from catching the flu.

High-risk staff include:
Pregnant staff
Labor & delivery staff
Pediatric staff
Emergency staff
Critical care staff/respiratory therapy
Bone marrow and lung transplant staff
Staff with children less than 6 months old in household
Staff with significant direct patient care
If you receive a vaccination at an outside source (including a private physician office), please make sure to provide evidence of vaccination to your manager as well as keep a copy for your records.
Anyone seeking exemption must complete a form and submit supporting documentation by Friday November 1st to Craig Duetsch at cduetsch@luc.edu. Anyone vaccinated outside of Loyola needs to submit validation to their supervisor, so that compliance can be confirmed.
Flu vaccination will continue and be available through employee health at all three locations (LUMC, Gottlieb and MacNeal) through to the end of the mandatory influenza vaccination period.
Flu vaccinations are still required for all employees, and we strongly encourage all colleagues to not wait to the end to be vaccinated.
---
Majid Afsar, MD, spoke at Data Science Workshop for the National Institute on Drug Abuse (NIDA) Clinical Trial Network
Assistant Professor Majid Afshar, MD, with appointments in the Department of Medicine and Department of Health Informatics and Data Science, spoke recently at a National Institutes of Health (NIH) Data Science Workshop for the National Institute on Drug Abuse (NIDA) Clinical Trial Network. His presentation highlighted his work leveraging electronic health records (EHRs) for data analytics to improve both process and outcome measures in hospitalizations for substance misuse.
A major focus of Dr. Afshar's work is data science, including machine learning and "natural language processing," a computer-based methodology that extracts information from clinical notes in an EHR. The data has great promise for screening and monitoring common medical issues that place patients at risk for complications or readmission and allow for timely interventions to be performed to improve health outcomes. Dr. Afshar and his collaborators have applied for NIH funding to incorporate the data-driven models as clinical decision support tools at point-of-care in the hospital to identify patients with substance misuse who will need interventions.
---
NIH Awards Funding to Associate Professor for Stroke and CVD Research Training
The National Institutes of Health (NIH) awarded funding to Parkinson Associate Professor Bamidele Tayo, PhD, in September 2019 for his role as Co-Principal Investigator of a training grant to be carried out in Nigeria and Ghana. The work is a continuation of two decades of training, mentoring, and research supported by the NIH and Centers for Disease Control (CDC) in Africa.
The program, known as Stroke and Cardiovascular Research Training (SCaRT) Institute, is a consortium of New York University, University of California San Francisco, Loyola University Chicago, and two African countries (Ghana and Nigeria). SCaRT will address a critical deficiency of African scientists committed to a career in stroke prevention and cardiovascular research. The training will occur yearly in Ghana and Nigeria, rather than the United States, in order to mitigate the risk of brain drain. Successful completion of SCaRT will lead to the establishment of a sustainable Cardiovascular Disease (CVD) research capacity and innovative and contextualized research projects targeted at stroke and CVD prevention.
---
Small molecules can restore the lusitropic response in animal models of hcm and dcm that are uncoupled by mutation
S.Marston,

M.Papadaki, S. Yang and A. Sheehan
Imperial College London, NHLI, ICTEM, Du Cane Road London, W12 0NN United Kingdom
Mutations in contractile proteins that cause familial hypertrophic cardiomyopathy (HCM) or familial dilated cardiomyopathy (DCM) often abolish the coupled relationship between Ca2+-sensitivity and troponin I (TnI) phosphorylation by PKA (uncoupling). In normal heart, phosphorylation of Ser22 and 23 of TnI by PKA leads to a twofold decrease in Ca2+-sensitivity and a corresponding increase in the rate of Ca2+ release from TnC and is essential for the lusitropic response to adrenergic stimulation. Therefore uncoupling results in a blunted response to β1-adrenergic activation that has been demonstrated in animal models with HCM or DCM mutations at cell, tissue and whole animal levels. Furthermore, it has been demonstrated in a DCM mouse model that this blunting is sufficient to induce symptoms of heart failure under chronic stress.
We have identified compounds that can specifically reverse these abnormalities in vitro and therefore have potential for treatment. Recoupling was complete and independent of the causative mutation and the nature of the compound. We have established a biological assay platform for screening EGCG and related analogues in intact cardiomyocytes to study their effects on contractile regulation in vivo, using an E99K ACTC heterozygous-mutant HCM mouse and the ACTC E361G DCM transgenic mouse models. In the mutant mouse the lusitropic response to dobutamine (∆t90rel) is blunted whilst the increased shortening (inotropy) is normal. Addition of the recoupling compounds resveratrol and Silybin B restores the dobutamine response to wild-type values (re-couples). The steroisomer, Silybin A is ineffective as a recoupler, which was also found in the in vitro assay. EGCG and quercetin may recouple but have additional off-target effects.
We recently repeated these studies using the Cytocypher high throughput system. Data collection and analysis was 20x faster and allowed a great reduction of animal usage. Current results on a wide range of compounds will be reported.
*Originally published August 8, 2019 on SpringerLink from the Journal of Muscle Research and Cell Motility
---
Parkinson Welcomes Students and Faculty at Lakeshore Campus Picnic
Loyola's new School of Public Health and Health Sciences kicked-off its first year at Lakeshore Campus yesterday with a special Welcome Picnic for students and faculty. While the weather forced the picnic to move indoors, more than 75 faculty, staff, and students gathered to celebrate, hear remarks from Interim Dean Dr. Kathy Bobay as well as remarks from Loyola University Chicago President Dr. Jo Ann Rooney and Dr. Margaret Callahan, Interim Provost and Chief Academic Officer and Senior Vice President, Strategy and Innovation. The new Parkinson school has more than 465 students studying at all three Chicago area campuses. Attendees also had an opportunity to participate in a ceremony where they selected a stone, made a wish, and placed it in a wishing bowl, which will be displayed at the new school. View photos from the event.
---
NIH Awards R01 Grant to Parkinson Professor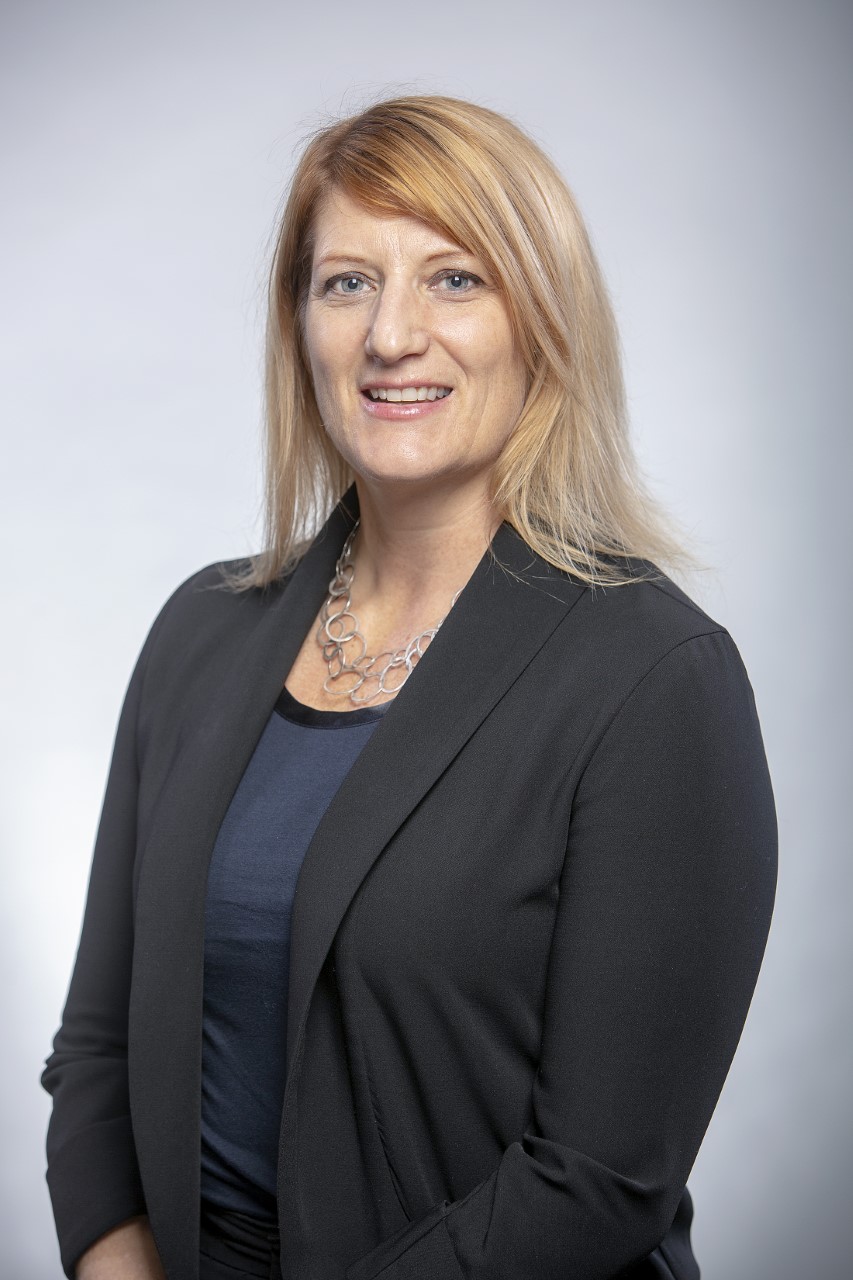 The National Heart, Lung and Blood Institute of the National Institutes of Health (NIH) awarded Lara Dugas, PhD, MPH, an RO1 grant to fund her project, "METS-Sleep: Sleep timing, gut microbiota and cardiometabolic risk across the epidemiological transition." Dugas received the funding in August 2019 for the new project, which builds on her current NIH study exploring gut microbiota and adiposity in five black international populations from Ghana, South Africa, Jamaica, Seychelles, and the U.S. Dugas is an Associate Professor in the Parkinson School of Health Sciences and Public Health.
Dugas received her doctorate in Exercise Physiology from the University of Cape Town, South Africa in 2004. She joined Loyola University Chicago in 2007 as a research associate. During that time, Dugas developed her interest in understanding how novel factors contribute to obesity and type 2 diabetes risk, to help improve health outcomes, particularly for minority, unstudied populations. Dugas received her MS in Clinical Research Methods (2011) and her MPH in Epidemiology (2013) from Loyola. She has trained more than 50 graduate and medical students during her tenure at Loyola.
In 2016, Dugas was named Stritch School of Medicine Junior Scientist of the Year and that same year became a Fellow of The Obesity Society, the leading professional society focused on obesity science, treatment, and prevention. In addition, she is the Division Director for Public Health Sciences at Loyola's Cardiovascular Research Institute. Dugas is a founding member of Loyola's Sports Medicine Epidemiology Research Group, which has received national and international attention for establishing guidelines for the prevention of injuries among children and adolescents who specialize in athletics at a young age.
---
Research and Publications
Niehoff Assistant Professor Vicki Bacidore, DNP, APRN, ACNP-BC, CEN, TNS, for her research, "Abdominal and genitourinary trauma," published in Sheehy's Emergency Nursing: Principles and Practice, 7th Edition.
Parkinson Associate Professor Oguz Akbilgic, PhD, and Research Associate Ibrahim Karabayir, PhD, for their paper, "Fungi form interkingdom microbial communities in the primordial human gut that develop with gestational age," published in the FASEB (Federation of American Societies for Experimental Biology) Journal.
Niehoff Professor and Chair for Research Linda Janusek, PhD, RN, FAAN, Niehoff Research Assistant Professor Dina Tell, PhD, Stritch Professor Herbert Mathews, PhD, for their article, "Epigenetic perpetuation of the impact of early life stress on behavior," published in Science Direct.
Stritch faculty members Kathy Albain, MD and Clodia Osipo, PhD, for receiving a research award for the seventh consecutive year from the Breast Cancer Research Foundation for their project, "The role of DAXX as a breast cancer suppressor and predictor of therapeutic response."
Qunfeng Dong, PhD, Xiang Gao, PhD, MS, Huaiying Lin, MS, for their article, "Characterization of Proximal Small Intestinal Microbiota in Patients with Suspected Small Intestinal Bacterial Overgrowth: A Cross-Sectional Study," published in Clinical and Translational Gastroenterology
Eric Marcotte, MD, FACS, FASMBS, and Bipan Chand, MD, FACS, FASGE, FASMBS, for their article on the "Effects of intraoperative leak testing on postoperative leak-related outcomes after primary bariatric surgery: an analysis of the MBSAQIP," published in Surgery for Obesity and Related Diseases.
Katherine Dux, DPM, for her article, "Implantable Materials Update," published in the Clinics of Podiatric Medicine and Surgery.
Matthew Harkenrider, MD, for his study, "A proposal for a new classification of "unfavorable risk criteria" in patients with stage I endometrial cancer," published in the International Journal of Gynecological Cancer.
Alan J. Wolfe, PhD, Elizabeth Mueller, MD, FACS, MS, and Microbiology and Immunology graduate students Travis Price, Evann Hilt, and Krystal Thomas-White for their article, "The urobiome of content adult women: a cross-sectional study," published in the BJOG: An International Journal of Obstetrics and Gynecology.
Physicians from the Department of Emergency Medicine and the Parkinson School of Health Sciences and Public Health collaborated with a UIC researcher to publish a report, "Examining the Effect of the Affordable Care Act on Two Illinois Emergency Departments," in the Western Journal of Emergency Medicine.

Congratulations to Nancy Zeleznik-Le, PhD, and Charles Hemenway, MD, PhD, Cardinal Bernardin Cancer Center, for receiving a five-year NIH grant from the National Cancer Institute for their work: "AF9 (MLLT3) function in leukemia and normal hematopoiesis."

Eugene Suh, MD, Charles Hemenway, MD, and Casey Mehrhoff, DO, for their paper, "Emergency of a Ph-negative Clone in a Child with Ph+ ALL," published in the Journal of Pediatric Hematology/Oncology.

Kayhan Parsi, JD, PhD, for his article, "Why Dax's Case Still Matters," published in the American Journal of Bioethics.

Elizabeth Mueller, MD, FACS, MS, for her article, "Efficacy and Safety of Combination Pharmacotherapy for Patients with Overactive Bladder: A Rapid Evidence Assessment," published in European Urology.

Andrew Golz, MD, and Pietro Tonino, MD, FAAOS, for their article "A Biomechanical Analysis of Tibial Fixation Methods in Hamstring-Graft Anterior Cruciate Ligament Reconstruction," published in the Iowa Orthopedic Journal.

Michael Zilliox, PhD, for his article, "Pro-Survival Lipid Sphingosine-1-Phosphate Metabolically Programs T Cells to Limit Anti-tumor Activity," published in Cell Reports.
PhD candidate Sharon Giarrizzo-Wilson, who received a grant from the Competency & Credentialing Institute to support her dissertation, "Identifying Transfer of Care Gaps: Electronic Health Record Capture of Handoff Communications."
---
Parkinson School Kicks-Off with Welcome Picnic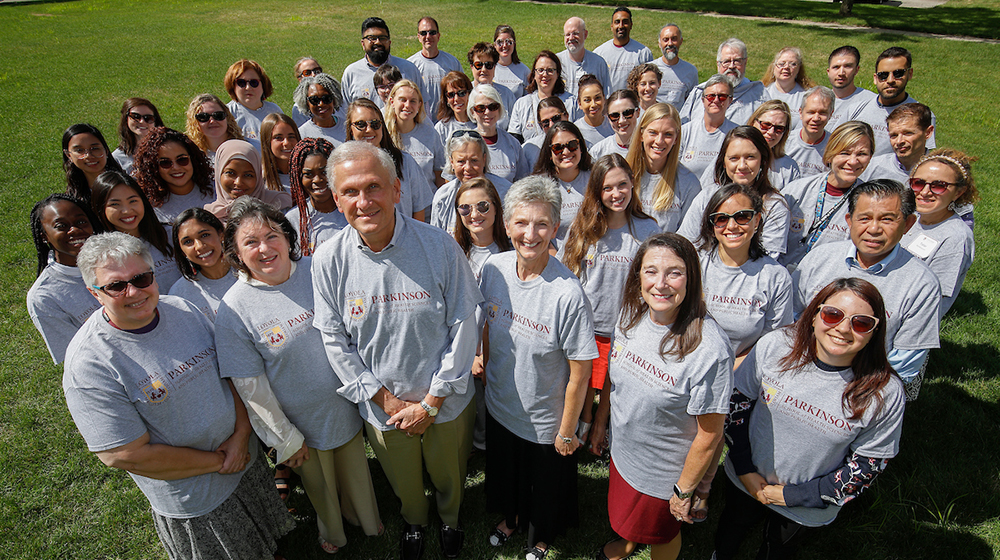 More than 50 Parkinson School students, faculty, and staff, along with Interim Dean Kathy Bobay, President Jo Ann Rooney, and Dr. Margaret Callahan, gathered on a beautiful August afternoon to celebrate the start of classes in the new school.
Loyola University Chicago Board of Trustees Chair Bob Parkinson and his wife Betty, both proud and generous Loyola alums, were on hand to celebrate.
The Parkinsons gave a $20 million gift to launch the new school that has a total of 467 students (269 undergraduate and 198 graduate) in its inaugural class, across the Health Sciences and Lakeshore campuses.
At the picnic, students were invited to drop a stone in a wishing bowl to symbolize the passion and desire that's shaped the foundation of the Parkinson School. View photos from the picnic.
Vice President and Associate Provost John Hardt, PhD, offered this blessing at the picnic.
For our blessing today, I want to bring together two themes that are pertinent to the moment we are entering as we launch a new school: stone and desire.
In a little while, I'm going to invite those of you who are interested among us to come forward and take a river rock from the pile you see to my side and place it in the bowl. The stone you take is meant to represent for you a silent desire for the Parkinson School--and your place in it(!)--as schools without students, staff, and faculty are, in fact, not schools at all but only structures awaiting a use, an activity--and a telos.
Desires are at the heart of our tradition as a Jesuit institution. Ignatius of Loyola held to the idea that our deepest desires, sometimes subconsciously avoided by us for a range of reasons in our lives, are the door to the sacred in our lives. For Ignatius of Loyola, under whose name the Parkinson School lives, our desires are God's way of communicating with us most deeply and honestly.
To start us off, I'd like to read a brief section of the 5th chapter of Joshua from the Hebrew scriptures. The scene we are going to enter here is that of the Israelites being led by Joshua in the wake of Moses's death, crossing the Jordan river into the land of Canaan upon God's command to go there--and his promise to protect them.
As the Ark of the Covenant is carried through the river, the waters stop flowing in the Jordan. A dry path is made for all of the Israelites to passage through. To commemorate the bedrock fidelity of God's promise and covenant with his people, Joshua asked 12 members, representative of the 12 tribes of Israel, to wrench free from the now dry riverbed a large stone and carry it to a common pile as a memorial to God's faithfulness in that momentous occasion.
Stone as a medium of nature communicates to us solidity, strength, permanence, faithful presence. This is why we carve into them the names of loved ones, shape them into works of beauty, and build with them structures meant for work, discovery, learning.
Today, we will ask stone to carry the weight and significance of our desires as we bless the birth of the Parkinson School of Health Sciences and Public Health. The stones in which you weight significance will be housed in the Parkinson School. They will be displayed so that when future generations may ask of us still present, "What do these stones mean?" (5:21), we will have an answer that communicates the passion and desire that have shaped the foundation of our school.
At this time, I'd invite members of our Parkinson School community to come forward if you'd like, (1) take one of these rocks as a symbolic representation of your desire and hope for the school and your place in it; (2) place it in the bowl; (3) and then return to your seat.
Good and gracious God may the weight of this bowl filled with our hopes, desires, and prayers for this school serve as an anchor and cornerstone for our common work for the Greater Glory of God. Amen.
---
Homeboy Industries Approach Could Come to Maywood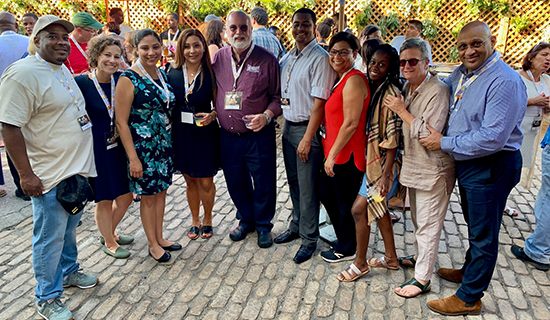 In April 2019, Father Greg Boyle visited Loyola University Chicago's Health Sciences Campus to talk about his work with Homeboy Industries, a Los Angeles-based organization he founded. Four months later, a group of Maywood representatives, Health Sciences faculty and staff, and LUHS, attended a Global Homeboy Network training at Homeboy Industries. This group seeks to apply approaches and "lessons learned" to address issues and promote community health.
Participants included:
Lucia Garcia, Center for Community and Global Health, SSOM
Amy Luke, PhD, Professor, Director of Research for the Center for Community and Global Health, Parkinson School of Health Sciences and Public Health
Briana Lemon, Parkinson School of Health Sciences and Public Health
Lena Hatchett, PhD, Director, Community and University Partnerships, Co-Founder, Proviso Partners for Health, Neiswanger Institute for Bioethics and Healthcare Leadership
Michael Hayes, Chaplain, Spiritual Care and Education, LUHS
Chris Epps, Windy City Harvest and PP4H
Nathaniel Booker, Trustee, Village of Maywood
Veronica Ojeda, Maywood Resident and Maywood Fine Arts volunteer
Chris Parker, VP Community Banking, Wintrust
---
Health Systems Science Course Director Opportunity
The Stritch School of Medicine Central Curricular Authority (CCA) seeks applications from faculty interested in serving as the Director of a new course entitled "Health System Science." The Course Director will be responsible for implementing and assessing the course, in collaboration with the SSOM Health Systems Science Course Advisory Board and the CCA, for Fall 2020.
Interested faculty with practical experience in curriculum development in the proposed competency domains are encouraged to apply by submitting a) their curriculum vitae and b) a statement outlining their qualifications for serving as Director, vision for the Health Systems Science curriculum, and interest in undergraduate medical education.
Read the outline of Course Director responsibilities. Submit your application to CCA Chair Theresa Kristopaitis, MD., before September 20th
---
St. Ignatius Feast Day
Every July, we honor the Feast Day of Saint Ignatius of Loyola by reaching out in service to our community partners. This is an ideal opportunity for Loyola University Chicago employees to put our mission into action. Please join us in service to and with others.
Wednesday July 31
8 am Mass
Health Sciences Campus
Gathering Room, room 250, SSOM
10 am Mass
Health Sciences Campus
Marcella Niehoff School of Nursing Lawn under the tent
---
Congratulations!
Congratulations to students and faculty who have recently received grants, awards, and accolades. Learn more about their accomplishments:
Raiza Bonomo, PhD student from Cell and Molecular Physiology Track, recipient of the Peter J. Dyck award from the International Diabetes Neuropathy Consortium at the 2019 international Peripheral Nerve Society meeting in Genoa, Italy. She received the award for best research for junior researchers (40 years and younger) presenting abstracts. Her research presentation was "Gut Microbiome and its Potential Role in Obesity-Induced Allodynia" and Raiza works in Dr. Viginie Mansuy-Aubert's lab.
Second year Stritch student Linda Nguyen
, who
published an article
about the pressures of learning as a physician-in-training in KevinMD.com.
Stritch student Liz Southworth, who was appointed Vice Chair of the AMA's Committee on Medical Education in the Medical Student Section.

Dr. Oguz Akbilgic (Department of Health Informatics and Data Science) and Dr. Karen Saban, PhD, RN, APRN, CNRN, FAHA, FAAN, Associate Dean of Research, Marcella Niehoff School of Nursing, for a grant from the Center for Health Outcomes and Informatics Research (CHOIR) for their study, "Predictors of Ischemic Stroke Outcomes." The study's purpose: examine key predictors, including fever, glucose levels, swallowing impairment, and cardiac rhythm of poor stroke outcomes and describe how these predictors are managed during acute hospitalization. An outstanding interdisciplinary team of Loyola nurses (Paula De La Pena and Teresa Rasmussen), a neurologist (Dr. Rick Gill), a pharmacist (Dr. Elisabeth Donahey), Niehoff faculty (Dr. Kathy Bobay) and Parkinson School of Health Sciences and Public Health faculty (Ibrahim Karabayir). In addition, Dr. Sandy Middleton, a lead stroke outcome researcher from Australian Catholic University, will be a co-investigator for the study, allowing us to benchmark findings with Dr. Middleton's data that has been collected throughout Australia and Europe. The development of this study is the result of a research collaboration between the Niehoff School of Nursing and Australian Catholic University.
---
2019 Wolf and Kettle Teacher Award
The Wolf and Kettle are symbols from the family shield of Saint Ignatius of Loyola and appear on the Loyola logo. While these symbols represent the generosity of the Loyola family, the Wolf and Kettle Teacher Award represents the generosity of our clinical teachers, who contribute to the development of future physicians.
*List coming soon!
---
Read recent articles published by our researchers in The New England Journal of Medicine
With the highest impact factor of all medical journals, an article published in The New England Journal of Medicine represents a very prestigious accomplishment for clinical researchers and is usually reserved for pivotal research. Below is a small sample of articles, summarizing collaborative research from our very own clinician scientists. Each article represents potential changes in the standard of care for the treatment of cancer patients:
Adjuvant Chemotherapy plus Radiation for Locally Advanced Endometrial Cancer.
Matei D, Filiaci V, Randall ME, Mutch D, Steinhoff MM, DiSilvestro PA, Moxley KM, Kim YM, Powell MA, O'Malley DM, Spirtos NM, Small W Jr, Tewari KS, Richards WE, Nakayama J, Matulonis UA, Huang HQ, Miller DS.
N Engl J Med. 2019 Jun 13;380(24):2317-2326.
Clinical and Genomic Risk to Guide the Use of Adjuvant Therapy for Breast Cancer.
Sparano JA, Gray RJ, Ravdin PM, Makower DF, Pritchard KI, Albain KS, Hayes DF, Geyer CE Jr, Dees EC, Goetz MP, Olson JA Jr, Lively T, Badve SS, Saphner TJ, Wagner LI, Whelan TJ, Ellis MJ, Paik S, Wood WC, Keane MM, Gomez Moreno HL, Reddy PS, Goggins TF, Mayer IA, Brufsky AM, Toppmeyer DL, Kaklamani VG, Berenberg JL, Abrams J, Sledge GW Jr.
N Engl J Med. 2019 Jun 20;380(25):2395-2405.
Overall Survival with Fulvestrant plus Anastrozole in Metastatic Breast Cancer.
Mehta RS, Barlow WE, Albain KS, Vandenberg TA, Dakhil SR, Tirumali NR, Lew DL, Hayes DF, Gralow JR, Linden HH, Livingston RB, Hortobagyi GN.
N Engl J Med. 2019 Mar 28;380(13):1226-1234.
Ibrutinib Regimens versus Chemoimmunotherapy in Older Patients with Untreated CLL.
Woyach JA, Ruppert AS, Heerema NA, Zhao W, Booth AM, Ding W, Bartlett NL, Brander DM, Barr PM, Rogers KA, Parikh SA, Coutre S, Hurria A, Brown JR, Lozanski G, Blachly JS, Ozer HG, Major-Elechi B, Fruth B, Nattam S, Larson RA, Erba H, Litzow M, Owen C, Kuzma C, Abramson JS, Little RF, Smith SE, Stone RM, Mandrekar SJ, Byrd JC.
N Engl J Med. 2018 Dec 27;379(26):2517-2528.
Adjuvant Chemotherapy Guided by a 21-Gene Expression Assay in Breast Cancer.
Sparano JA, Gray RJ, Makower DF, Pritchard KI, Albain KS, Hayes DF, Geyer CE Jr, Dees EC, Goetz MP, Olson JA Jr, Lively T, Badve SS, Saphner TJ, Wagner LI, Whelan TJ, Ellis MJ, Paik S, Wood WC, Ravdin PM, Keane MM, Gomez Moreno HL, Reddy PS, Goggins TF, Mayer IA, Brufsky AM, Toppmeyer DL, Kaklamani VG, Berenberg JL, Abrams J, Sledge GW Jr.
N Engl J Med. 2018 Jul 12;379(2):111-121.
Axicabtagene Ciloleucel CAR T-Cell Therapy in Refractory Large B-Cell Lymphoma.
Neelapu SS, Locke FL, Bartlett NL, Lekakis LJ, Miklos DB, Jacobson CA, Braunschweig I, Oluwole OO, Siddiqi T, Lin Y, Timmerman JM, Stiff PJ, Friedberg JW, Flinn IW, Goy A, Hill BT, Smith MR, Deol A, Farooq U, McSweeney P, Munoz J, Avivi I, Castro JE, Westin JR, Chavez JC, Ghobadi A, Komanduri KV, Levy R, Jacobsen ED, Witzig TE, Reagan P, Bot A, Rossi J, Navale L, Jiang Y, Aycock J, Elias M, Chang D, Wiezorek J, Go WY.
N Engl J Med. 2017 Dec 28;377(26):2531-2544.
---
Department of Medicine Residency Graduation Awards
The recent Department of Medicine Residency Graduation and Awards Dinner recognized its trainees, including honorees Piotra Babinski (Intern of the Year), Daniel Colon Hidalgo (Resident of the Year), and Daniel Djondo (Fellow of the Year). Other honorees include:
Jaclyn Keller (Harry Messmore & Walter Wood, MD Award)
Kevin Boblick (Robert E. Carlson MD Award for Clinical Excellence)
Kevin Boblick and LaBianca Wright (Medical Student Teacher of the Year Award)
LaWanda Urquhart (Chief Resident Award)
Subir Shah (Stephen Gawne Excellence in Teaching Award – Golden Apple)
Ejaaz Kalimullah (Stephen Gawne Excellence in Teaching Award -- Silver Apple)
Paul Hutchison (Stephen Gawne Excellence in Teaching Award -- Bronze Apple)
Nate Derhammer, Paul Hutchison and Babu Eladasari (Paul O'Keefe Inspirational Attendings)
Rodney Tehrani (Chairman's Leadership Award)
---
Remembering Scott Jellish, MD
Please join us as we remember the life of Scott Jellish, MD, PhD, former chair of the department of anesthesiology. A memorial service will be held in the CTRE on Wednesday, June 12, at 7 am.
Dr. Jellish was a board-certified anesthesiologist. He joined Loyola University Medical Center in 1991 as an assistant professor in the department of anesthesiology and served as chair of the department since 2000. Dr. Jellish chaired the operating room/post-anesthesia recovery committee and performance improvement project and served on a number of committees including the quality and patient safety committee of the board and anesthesia research committee.
Dr. Jellish received a doctor of medicine degree from Rush Medical College in Chicago and a PhD in biochemistry from Loyola University Chicago. He was well published with more than 150 manuscripts and abstracts in the areas of neuromonitoring and neuroprotection. He was a reviewer for numerous journals, including the Journal of Clinical Anesthesiology and Journal of Cardiothoracic and Vascular Anesthesia, Anesthesia & Analgesia, Anesthesiology, Head & Neck and the European Journal of Anaesthesiology.
---
Pediatrics Research Day
The Department of Pediatrics hosted its 1st Research Day on May 17.
A total of 47 posters showcased the Department's scholarly activity for the 2018-2019 academic year. The posters included research projects, quality improvement initiatives, and case reports. Residents, fellows, medical students, and faculty were all a part of these projects.
Many of the posters were presented at local, regional, and national conferences, such as the American Academy of Pediatrics (AAP), Pediatric Academic Society (PAS), American Society of Pediatric Hematology/Oncology (ASPHO), and the Academic Pediatric Association (APA), over the past year.
---
Improving Health Sciences Campus Facilities
Dear Loyola Health Sciences Community,
May 29: Construction to Begin on Cardinal Bernardin Cancer Center (CBCC)
Next Wednesday, May 29, construction will begin on the roof replacement project on the north side of the CBCC. During the next six months, there will be intermittent noise and odors resulting from this construction.
We appreciate your patience during this process as we improve our facilities. Please keep the following safety notes in mind as you walk in/around the CBCC and nearby buildings:
Obey all traffic signs and follow the directions provided by flaggers
Be aware of pedestrian traffic pattern changes and restricted foot traffic access between the CBCC, Maguire, and CTRE buildings
If you have questions about this Health Sciences Campus improvement project, please contact Richard Wydra. Parking will not be affected.
June 30: Spring Cleaning/Recycling
Loyola University Health System is discontinuing the use of the grey recycling/shredding bins. Because this is a service provided Loyola University Chicago buildings on the Health Sciences Campus, as of July 1, those bins will no longer be available. (Please note that June 30 will be the last pick up date for the bins.)
To protect the disposal of sensitive documents, please use one of the following options: Accurate Document Destruction Shredit or through the purchase of shredders. Costs for either of these options is the responsibility of each department. The Lake Shore Campus has discontinued the use of these grey bins, too.
Thank you for adhering to the safety guidelines during the CBCC roof replacement project and to ensuring that sensitive documents are disposed properly.
Craig Duetsch
Associate Provost, Finance and Administration
Health Sciences Campus
---
University Assisted Housing Program Seminar
Loyola's University Assisted Housing (UAH) Program is designed to encourage home ownership near campus specific locations (Lake Shore and Water Tower campuses and the Health Sciences Campus) by assisting eligible Loyola faculty and staff with closing costs and down payments for the purchase of a home or condo as a primary residence. Employees do not have to be first time buyers to take advantage of this great benefit.
Join us July 16, 2019 in CTRE Room 152A from 12:00 to 1:00 PM for the University Housing Seminar.
Learn more about the housing program or start an online application today.
---
2019 Science Sisters Day
More than 70 middle school girls from Irving, Stevenson, and Roosevelt middle schools visited the CTRE for the 3rd Annual Science Sisters Day, which promotes science to 7th and 8th-graders.
"Our goal is to promote science to girls in middle school," said Science Sisters co-Chair Anya Nikolai-Yogerst, a founding member of LUC's Women in Science (WINS) group.
"We target this age group because it is known that a loss of interest in science typically occurs during middle school. During the day, we aim to make science fun, engaging, and creative."
The students are from schools that lack funding for science experiments on a regular basis, so the day emphasizes seven hands-on experiments to show that science can be fun. Thirty-five WINS members were on hand, helping students with experiments ranging from performing chemical reactions and extracting DNA to investigating the source of a disease outbreak. For more information on Science Sisters Day or WINS, contact: WINS@luc.edu).
---
Stritch Students meet with Trinity Health
Current and graduating Stritch students met with Trinity Health's Vice President for Federal Public Policy and Advocacy, Tonya Wells. As an element of its mission, Trinity provided scholarships for six students in this graduating class (and nine total) who are DACA (Deferred Action for Childhood Arrivals) students. Thank you to the generosity of our academic medical center partner for helping to make medical education possible for these future physicians. Learn more about Stritch DACA students.
---
8th Annual Dr. Arti Rupani Garg Internal Medicine Resident Research and Quality Improvement Day
The winners of the 8th Annual Dr. Arti Rupani Garg Internal Medicine Resident Research and Quality Improvement Day. This event showcases residents' work in the fields of basic science, translational, and clinical research as well as quality improvement initiatives and projects. Open to any internal medicine resident, this year drew more than 40 poster submissions and more than 30 abstract entries. Learn more.
The winners of the 8th Annual Dr. Arti Rupani Garg Internal Medicine Resident Research and Quality Improvement Day. This event showcases residents' work in the fields of basic science, translational, and clinical research as well as quality improvement initiatives and projects. Open to any internal medicine resident, this year drew more than 40 poster submissions and more than 30 abstract entries.
Resident Research and Quality Improvement Poster Winners

1st Place: Benjamin Schmidt (PGY2)
PI: Dr. Steve Scaglione (Hepatology)
Project: Predictors of Alcohol Recidivism in Patients with Alcoholic Cirrhosis

2nd Place: Swetha Gogineni (PGY3)
PI: Dr. Franco Laghi (Pulmonary Critical Care)
Project: Ultrasound Assessmenet of Diaphragmatic Thickening in Patients with Amyotrophic Lateral Sclerosis

3rd Place: Christine Thomas (PGY3)
PI: Dr. Elizabeth Henry (Hematology / Oncology)
Project: Clostridioides difficile Infection Following Hematopoietic Stem Cell Transplantation

Abstract Winners:

1st Place: Leo Gozdecki (PGY3)
PI: Dr. Verghese Mathew (Cardiology)
Project: Transcatheter Aortic Valve Replacement Outcomes at Veterans Health Administration Hospitals

2nd Place: Blaine Knox and Daniel Linden (PGY2s)
PI: Dr. Stephanie Berg (Hematology / Oncology)
Project: Immunological and Clinical Profiles of Patients Receiving Immune Checkpoint inhibitors and Investigations of Potential Biomarkers Predicting Immune-Related Adverse Events

3rd Place: Daniel Colon Hidalgo (PGY3)
PI: Dr. Megan Rech (Pharmacy)
Project: Time to Norepinephrine Initiation in Patients with Fluid-Refractory Shock
---
Sam J. Marzo, MD, named interim dean of the Stritch School of Medicine
Dear Health Sciences Community,
I am pleased to announce that Sam J. Marzo, MD, has been named interim dean of the Stritch School of Medicine. Dr. Marzo is currently Professor and Chair of the Department of Otolaryngology-Head and Neck Surgery. He will assume his new duties January 1, 2019 so that he will be able to have transition time with Dean Goldstein prior to his departure.
Dr. Marzo has worked at Loyola since 1997 and helped make the Otolaryngology department a nationally-renowned one, particularly when it comes to leading-edge hearing technologies. He was director of the Loyola University Medical Center (LUMC) Otolaryngology Residency Program from 2005 to 2017. He is director of the Loyola Hearing & Balance Center and a member of the Loyola Committee on Academic Rank and Tenure. He has been part of numerous national committees, including the Chicago Laryngological and Otological Society, American Academy of Otolaryngology-Head and Neck Surgery, and The American Neurotology Society. His research interests include surgery for hearing loss and deafness, facial nerve disorders, dizziness, and more. Dr. Marzo is a Stritch alum who also completed his residency at LUMC. Given Dr. Marzo's extensive clinical leadership experience and service to Loyola, I am confident he will be a strong interim leader for Stritch.

During this transition period, the School of Medicine will also be supported by Dr. Gregory Gruener, vice dean of education. Dr. Gruener is a strong, longtime leader of the academic medical programs and will continue to ensure Stritch students receive the best possible medical education and are supported along the way.
We also look forward to the arrival of Meharvan (Sonny) Singh, PhD, as vice dean of research on February 15, 2019. Dr. Singh comes to Loyola from the University of North Texas, where he is dean of the Graduate School of Biomedical Sciences and a professor of pharmacology and neuroscience. As the research division continues to grow and evolve, we look forward to Dr. Singh's leadership in further strengthening and building research endeavors within the medical school.
In the new year, we will be selecting a search committee and search firm to identify and assess candidates for the permanent dean successor. We will follow university policy on the selection of a new dean for the school. I will continue to keep you updated as that search progresses.

Dr. Steve Goldstein will work with Dr. Marzo to assure a smooth transition. Please join me in thanking Dr. Goldstein for his leadership and contributions to the Stritch School of Medicine.
As always, please feel free to reach out directly if you have any questions.
Sincerely,

Margaret Faut Callahan, CRNA, PhD, FNAP, FAAN
Interim Provost and Chief Academic Officer
Provost, Health Sciences Division
---
The Pitch‌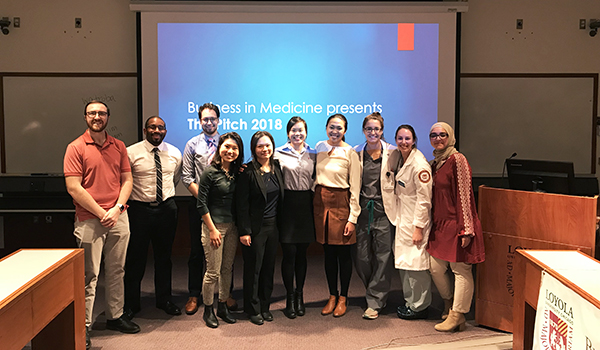 "The Pitch" is sponsored by the SSOM Business in Medicine special interest group of students. It is an idea challenge and students (on their own) design an implementable/implemented solution that improves Patient care at Loyola, Eases administrative burdens of physicians, or Improves the medical student experience at SSOM. The event occurred on October 23rd here at Stritch.
Each group has 5-minutes to present their proposal and a panel of judges can ask questions and score each presentation on multiple areas. The judges were Drs. Michael Dauzvardis, Gregory Gruener, Anuradha Khanna and Dane Salazar. The winner receives a $500 prize to support their work or other needs.
Linda Nguyen & Brice Jones: Implementing an ER Scribe Program to Reduce Patient ER Wait Times
Deena Kishawi & Elizabeth Southworth: Implementing a Financial Literacy Month
Michael Bernazzini: Utilizing medical videos to enhance patient education and care
Hye-Jin Yun: "Stritch Skimm" - a weekly summary of student events, email notifications, schedules/exams and social/student life events
(the winners) Justine Ly & Megan Wu: Using predictive analytics to calculate "no show" scores for patients
Alyssa Varsanik, Matt Cheung, Kyle Wieschaus, Jamie Neelon, and Joe Nye: Developing a health & fitness app that better connects patients and trainers focusing on wellness and health support.
---
Dane Salazar, MD, Serves as Medical Guardian for Honor Flight Chicago
Orthopaedic surgeon Dane Salazar, MD, served as the medical guardian for the 87th Honor Flight Chicago on August 8, which brought 90 veterans (eight World War II and 82 Korean War) to Washington, D.C. and back in one day. One of Dr. Salazar's patients introduced him to the organization.
The contingent was greeted at the WWII Memorial by Gen. Colin Powell and the USMC Silent Drill Team performed. Dr. Salazar's experience was enriched by being partnered with two Korean War veterans, Carl of Tinley Park and Bill of Orland Park (pictured), who have been friends for 70 years.
"It was an exceptionally rewarding experience as an American, but even more powerful because of my own military experience," said Dr. Salazar, a former Air Force physician.
---
Glyn R. Morgan, MD, MSc, FRCSC, FACS, named director of the division of intra-abdominal transplant surgery
We are pleased to announce that Glyn R. Morgan, MD, MSc, FRCSC, FACS, has been named professor in the department of surgery of Loyola University Chicago Stritch School of Medicine and director of the division of intra-abdominal transplant surgery at Loyola University Medical Center. Dr. Morgan starts Monday, August 20.
Prior to joining Loyola Medicine, Dr. Morgan was director of liver transplantation at the NYU Langone Transplant Institute in New York City. He co-founded the NYU living donor liver transplant program and has performed nearly 700 liver transplants – including more than 100 living donor liver transplants – and more than 200 kidney transplants.
At Loyola, Dr. Morgan plans to recruit new faculty, enhance clinical excellence and outcomes, increase the volume of kidney, liver and pancreas transplants, create and grow a living donor liver program, advance the educational profile of the division for medical students and residents, establish an American Society of Transplant Surgeons fellowship program and elevate clinical and translational research.
Dr. Morgan earned his MD and MSc degrees from the University of Toronto. He also completed his residency in surgery at the University of Toronto. He completed a fellowship in pediatric liver transplantation at the Hospital for Sick Children in Toronto and an ASTS-accredited transplant surgery fellowship in liver transplantation and hepatobiliary surgery at Cedars-Sinai Medical Center in Los Angeles.
---
Collaboration with the Chicago Department of Public Health
Loyola University Chicago Health Sciences Division is working in collaboration with the Chicago Dept. of Public Health (CDPH) and Chicago's other Clinical & Translational Science Institutes to facilitate research and evaluation partnerships to address public health priority areas identified in Healthy Chicago 2.0, the strategic plan for the city's public health system. Learn more.
Attached are two requests from the CDPH's Office of Violence Prevention & Behavioral Health for evaluation assistance with two initiatives related to Reducing Violence, one of the Healthy Chicago 2.0 priority areas. They are interested in connecting with possible evaluation/research partners to address these evaluation issues.
If you are interested in learning more or connecting with the Office, please complete the attached form and return it to: Rachelle Paul-Brutus, Coordinator of Research & Evaluation, Chicago Department of Public Health at Marie.PaulBrutus@cityofchicago.org.
Please see the forms and return to CDPH if interested:
---
Loyola Reverified as Level 1 Trauma Center
Loyola has been reverified by the American College of Surgeons (ACS) Committee on Trauma as a Level 1 Trauma Center. The verification is for three years.
Loyola is the only Level 1 Trauma Center in the state of Illinois to hold this verification by the ACS Committee on Trauma.
The ACS verification, review and consultation program helps hospitals evaluate and improve trauma care. It provides an objective, external review of a trauma center's resources and performance. A team of trauma experts completes an on-site review of the hospital. The team assesses relevant features of the program, including commitment, readiness, resources, policies, patient care and performance improvement.
A Level 1 trauma center is a comprehensive regional resource that serves as a tertiary care facility central to the trauma system. A Level 1 center is capable of providing total care for every aspect of injury – from prevention through rehabilitation.
Level 1 trauma care requires sustained resources and cooperation among departments, and a broad and dedicated multidisciplinary team. Our successful reverification is evidence of Loyola's extensive and continuing commitment to trauma care. Congratulations to Richard Gonzalez, MD, FACS, division director of trauma, surgical critical care and burns, Melissa Herlihy, MSN, RN, CCRN, TNS, trauma program manager, and all the dedicated trauma clinicians on this great accomplishment.
---
Association for the Accreditation of Human Research Protection Programs Accreditation
Congratulations to the Office of Research Services on receiving Full Accreditation for its Human Research Protection Program. Loyola was commended for its commitment to protecting the rights and welfare of research participants. The AAHRPP Site Visitors applauded the research teams for their dedication to the protection of human subjects and admired the IRB Staff for having a centralized program where researchers can find assistance. Thanks to Cynthia Tom-Klebba, Angela Carrico and Linda Millbrandt for all their hard work during this process.
---
Department of Radiology and Clinical Research Office wins Walter E. Berdon Award
An announcement was made at the May 2018 Society for Pediatric Radiology meeting that a SSOM research group from the Department of Radiology and Clinical Research Office won the Walter E. Berdon Award from the Society for Pediatric Radiology for the best Clinical Research paper submitted to the journal of Pediatric Radiology in the year preceding the meeting.
Best Clinical Paper (Walter Berdon Award) 2017:
Jennifer E. Lim-Dunham, MD, FACR, Iclal Erdem Toslak, MD, Khalid Alsabban, MD, Amany Aziz, MD, Brendan Martin, PhD, Gokcan Okur, MD, Katherine C. Longo, MD. Ultrasound risk stratification for malignancy using the 2015 American Thyroid Association Management Guidelines for Children with Thyroid Nodules and Differentiated Thyroid Cancer. Pediatr Radiol 2017, 47: 429-436. http://doi:10.1007/s00247-017-3780-6.
---
Institutional Learning Health Systems K12 - call for Scholar LOIs
We would like to inform you of a potential mentored career development training opportunity for faculty and/or healthcare professionals led by Drs. Abel Kho and Dave Cella. If funded, a commitment of 75% time dedicated toward the K by each scholar is required by AHRQ under the terms of this award. Salary (up to $90,000 annually) and an annual research stipend are included. We anticipate having four positions to fill in this institutional K12 scholar program, with a potential start date of September 1st, 2018 and running two years. Letters of intent are due July 16th, 2018.

Download more details.
---
New IACUC submission forms and portal systam
The IACUC is pleased to announce our new submission system including revised forms and a new portal submission system. The new system will go LIVE on June 27th. We will be holding two training sessions for faculty and staff to introduce the new system.
June 21st 3:30 – 4:30 pm SSOM Room 160
June 28th 9:30 - 10:30 am SSOM Room 190 (Tobin Hall)
Any investigators with submissions in progress using the current online forms are urged to submit their applications before the June 26th deadline. After June 26th, the current online forms will no longer be accepted. Investigators should strongly consider submitting any applications using the current online forms in advance (prior to June 19th) and requesting a pre-review through Tony Valero, IACUC Director. Pre-review identifies common errors in ACORP submissions, and investigators will have the opportunity to correct their submissions prior the June 26th deadline. Any submissions requiring corrections after the deadline will need to be transferred to the new forms and submitted using the new system.
Please contact Tony Valero if you have any questions (x64288, avalero@luc.edu).
---
Emerging Leader Institute Scholarship
Kate Nowakowski (M3) and Tiffany Ku (M1), each received the very competitive 2018 Emerging Leader Institute scholarship through the AAFP! This is an incredible opportunity for networking and expanding leadership skills within the family medicine specialty. Kate and Tiffany are the first Stritch School of Medicine student to receive this prestigious award given annually to only 30 selected residents and students.
---
Health Sciences Division Weekend of Excellence Winners
The Weekend of Excellence Ceremony took place April 19-22, 2018. Students and organizations were recognized for outstanding work performed throughout the school year. The winners representing the Health Sciences Division include:
Anya Nikolai and Abigail Cannon with Women in Science for Outstanding Organization Award
Sahand Ghodrati won for Outstanding Student Leader
The Health Professionals Recruitment and Exposure Program (HPREP) won for Outstanding Program of the Year
Victoria Nguyen - Damen Award Recipient
See all of the award winners from the Weekend of Excellence.
---
Alpha Omega Alpha
Michael Murphy (MD '19), was awarded the Alpha Omega Alpha Carolyn L Kuckein Student Research Fellowship for 2018-19 for the "Patient compliance of weight bearing status-prospective observational study."
---