Health Sciences Division Newsroom
Stay up to date with news about Loyola University Chicago's Health Science Division.
Sam J. Marzo, MD, named interim dean of the Stritch School of Medicine
Dear Health Sciences Community,
I am pleased to announce that Sam J. Marzo, MD, has been named interim dean of the Stritch School of Medicine. Dr. Marzo is currently Professor and Chair of the Department of Otolaryngology-Head and Neck Surgery. He will assume his new duties January 1, 2019 so that he will be able to have transition time with Dean Goldstein prior to his departure.
Dr. Marzo has worked at Loyola since 1997 and helped make the Otolaryngology department a nationally-renowned one, particularly when it comes to leading-edge hearing technologies. He was director of the Loyola University Medical Center (LUMC) Otolaryngology Residency Program from 2005 to 2017. He is director of the Loyola Hearing & Balance Center and a member of the Loyola Committee on Academic Rank and Tenure. He has been part of numerous national committees, including the Chicago Laryngological and Otological Society, American Academy of Otolaryngology-Head and Neck Surgery, and The American Neurotology Society. His research interests include surgery for hearing loss and deafness, facial nerve disorders, dizziness, and more. Dr. Marzo is a Stritch alum who also completed his residency at LUMC. Given Dr. Marzo's extensive clinical leadership experience and service to Loyola, I am confident he will be a strong interim leader for Stritch.

During this transition period, the School of Medicine will also be supported by Dr. Gregory Gruener, vice dean of education. Dr. Gruener is a strong, longtime leader of the academic medical programs and will continue to ensure Stritch students receive the best possible medical education and are supported along the way.
We also look forward to the arrival of Meharvan (Sonny) Singh, PhD, as vice dean of research on February 15, 2019. Dr. Singh comes to Loyola from the University of North Texas, where he is dean of the Graduate School of Biomedical Sciences and a professor of pharmacology and neuroscience. As the research division continues to grow and evolve, we look forward to Dr. Singh's leadership in further strengthening and building research endeavors within the medical school.
In the new year, we will be selecting a search committee and search firm to identify and assess candidates for the permanent dean successor. We will follow university policy on the selection of a new dean for the school. I will continue to keep you updated as that search progresses.

Dr. Steve Goldstein will work with Dr. Marzo to assure a smooth transition. Please join me in thanking Dr. Goldstein for his leadership and contributions to the Stritch School of Medicine.
As always, please feel free to reach out directly if you have any questions.
Sincerely,

Margaret Faut Callahan, CRNA, PhD, FNAP, FAAN
Interim Provost and Chief Academic Officer
Provost, Health Sciences Division
---
The Pitch‌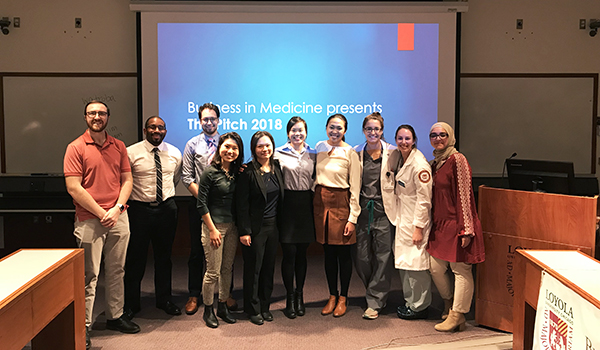 "The Pitch" is sponsored by the SSOM Business in Medicine special interest group of students. It is an idea challenge and students (on their own) design an implementable/implemented solution that improves Patient care at Loyola, Eases administrative burdens of physicians, or Improves the medical student experience at SSOM. The event occurred on October 23rd here at Stritch.
Each group has 5-minutes to present their proposal and a panel of judges can ask questions and score each presentation on multiple areas. The judges were Drs. Michael Dauzvardis, Gregory Gruener, Anuradha Khanna and Dane Salazar. The winner receives a $500 prize to support their work or other needs.
Linda Nguyen & Brice Jones: Implementing an ER Scribe Program to Reduce Patient ER Wait Times
Deena Kishawi & Elizabeth Southworth: Implementing a Financial Literacy Month
Michael Bernazzini: Utilizing medical videos to enhance patient education and care
Hye-Jin Yun: "Stritch Skimm" - a weekly summary of student events, email notifications, schedules/exams and social/student life events
(the winners) Justine Ly & Megan Wu: Using predictive analytics to calculate "no show" scores for patients
Alyssa Varsanik, Matt Cheung, Kyle Wieschaus, Jamie Neelon, and Joe Nye: Developing a health & fitness app that better connects patients and trainers focusing on wellness and health support.
---
Dane Salazar, MD, Serves as Medical Guardian for Honor Flight Chicago
Orthopaedic surgeon Dane Salazar, MD, served as the medical guardian for the 87th Honor Flight Chicago on August 8, which brought 90 veterans (eight World War II and 82 Korean War) to Washington, D.C. and back in one day. One of Dr. Salazar's patients introduced him to the organization.
The contingent was greeted at the WWII Memorial by Gen. Colin Powell and the USMC Silent Drill Team performed. Dr. Salazar's experience was enriched by being partnered with two Korean War veterans, Carl of Tinley Park and Bill of Orland Park (pictured), who have been friends for 70 years.
"It was an exceptionally rewarding experience as an American, but even more powerful because of my own military experience," said Dr. Salazar, a former Air Force physician.
---
Glyn R. Morgan, MD, MSc, FRCSC, FACS, named director of the division of intra-abdominal transplant surgery
We are pleased to announce that Glyn R. Morgan, MD, MSc, FRCSC, FACS, has been named professor in the department of surgery of Loyola University Chicago Stritch School of Medicine and director of the division of intra-abdominal transplant surgery at Loyola University Medical Center. Dr. Morgan starts Monday, August 20.
Prior to joining Loyola Medicine, Dr. Morgan was director of liver transplantation at the NYU Langone Transplant Institute in New York City. He co-founded the NYU living donor liver transplant program and has performed nearly 700 liver transplants – including more than 100 living donor liver transplants – and more than 200 kidney transplants.
At Loyola, Dr. Morgan plans to recruit new faculty, enhance clinical excellence and outcomes, increase the volume of kidney, liver and pancreas transplants, create and grow a living donor liver program, advance the educational profile of the division for medical students and residents, establish an American Society of Transplant Surgeons fellowship program and elevate clinical and translational research.
Dr. Morgan earned his MD and MSc degrees from the University of Toronto. He also completed his residency in surgery at the University of Toronto. He completed a fellowship in pediatric liver transplantation at the Hospital for Sick Children in Toronto and an ASTS-accredited transplant surgery fellowship in liver transplantation and hepatobiliary surgery at Cedars-Sinai Medical Center in Los Angeles.
---
Collaboration with the Chicago Department of Public Health
Loyola University Chicago Health Sciences Division is working in collaboration with the Chicago Dept. of Public Health (CDPH) and Chicago's other Clinical & Translational Science Institutes to facilitate research and evaluation partnerships to address public health priority areas identified in Healthy Chicago 2.0, the strategic plan for the city's public health system. Learn more.
Attached are two requests from the CDPH's Office of Violence Prevention & Behavioral Health for evaluation assistance with two initiatives related to Reducing Violence, one of the Healthy Chicago 2.0 priority areas. They are interested in connecting with possible evaluation/research partners to address these evaluation issues.
If you are interested in learning more or connecting with the Office, please complete the attached form and return it to: Rachelle Paul-Brutus, Coordinator of Research & Evaluation, Chicago Department of Public Health at Marie.PaulBrutus@cityofchicago.org.
Please see the forms and return to CDPH if interested:
---
Loyola Reverified as Level 1 Trauma Center
Loyola has been reverified by the American College of Surgeons (ACS) Committee on Trauma as a Level 1 Trauma Center. The verification is for three years.
Loyola is the only Level 1 Trauma Center in the state of Illinois to hold this verification by the ACS Committee on Trauma.
The ACS verification, review and consultation program helps hospitals evaluate and improve trauma care. It provides an objective, external review of a trauma center's resources and performance. A team of trauma experts completes an on-site review of the hospital. The team assesses relevant features of the program, including commitment, readiness, resources, policies, patient care and performance improvement.
A Level 1 trauma center is a comprehensive regional resource that serves as a tertiary care facility central to the trauma system. A Level 1 center is capable of providing total care for every aspect of injury – from prevention through rehabilitation.
Level 1 trauma care requires sustained resources and cooperation among departments, and a broad and dedicated multidisciplinary team. Our successful reverification is evidence of Loyola's extensive and continuing commitment to trauma care. Congratulations to Richard Gonzalez, MD, FACS, division director of trauma, surgical critical care and burns, Melissa Herlihy, MSN, RN, CCRN, TNS, trauma program manager, and all the dedicated trauma clinicians on this great accomplishment.
---
Association for the Accreditation of Human Research Protection Programs Accreditation
Congratulations to the Office of Research Services on receiving Full Accreditation for its Human Research Protection Program. Loyola was commended for its commitment to protecting the rights and welfare of research participants. The AAHRPP Site Visitors applauded the research teams for their dedication to the protection of human subjects and admired the IRB Staff for having a centralized program where researchers can find assistance. Thanks to Cynthia Tom-Klebba, Angela Carrico and Linda Millbrandt for all their hard work during this process.
---
Department of Radiology and Clinical Research Office wins Walter E. Berdon Award
An announcement was made at the May 2018 Society for Pediatric Radiology meeting that a SSOM research group from the Department of Radiology and Clinical Research Office won the Walter E. Berdon Award from the Society for Pediatric Radiology for the best Clinical Research paper submitted to the journal of Pediatric Radiology in the year preceding the meeting.
Best Clinical Paper (Walter Berdon Award) 2017:
Jennifer E. Lim-Dunham, MD, FACR, Iclal Erdem Toslak, MD, Khalid Alsabban, MD, Amany Aziz, MD, Brendan Martin, PhD, Gokcan Okur, MD, Katherine C. Longo, MD. Ultrasound risk stratification for malignancy using the 2015 American Thyroid Association Management Guidelines for Children with Thyroid Nodules and Differentiated Thyroid Cancer. Pediatr Radiol 2017, 47: 429-436. http://doi:10.1007/s00247-017-3780-6.
---
Institutional Learning Health Systems K12 - call for Scholar LOIs
We would like to inform you of a potential mentored career development training opportunity for faculty and/or healthcare professionals led by Drs. Abel Kho and Dave Cella. If funded, a commitment of 75% time dedicated toward the K by each scholar is required by AHRQ under the terms of this award. Salary (up to $90,000 annually) and an annual research stipend are included. We anticipate having four positions to fill in this institutional K12 scholar program, with a potential start date of September 1st, 2018 and running two years. Letters of intent are due July 16th, 2018.

Download more details.
---
New IACUC submission forms and portal systam
The IACUC is pleased to announce our new submission system including revised forms and a new portal submission system. The new system will go LIVE on June 27th. We will be holding two training sessions for faculty and staff to introduce the new system.
June 21st 3:30 – 4:30 pm SSOM Room 160
June 28th 9:30 - 10:30 am SSOM Room 190 (Tobin Hall)
Any investigators with submissions in progress using the current online forms are urged to submit their applications before the June 26th deadline. After June 26th, the current online forms will no longer be accepted. Investigators should strongly consider submitting any applications using the current online forms in advance (prior to June 19th) and requesting a pre-review through Tony Valero, IACUC Director. Pre-review identifies common errors in ACORP submissions, and investigators will have the opportunity to correct their submissions prior the June 26th deadline. Any submissions requiring corrections after the deadline will need to be transferred to the new forms and submitted using the new system.
Please contact Tony Valero if you have any questions (x64288, avalero@luc.edu).
---
Emerging Leader Institute scholarship
Kate Nowakowski (M3) and Tiffany Ku (M1), each received the very competetive 2018 Emerging Leader Institute scholarship through the AAFP! This is an incredible opportunity for networking and expanding leadership skills within the family medicine specialty. Kate and Tiffany are the first Stritch School of Medicine student to receive this prestigious award given to only 30 selected residents and students annually.
---
Health Sciences Division Weekend of Excellence Winners
The Weekend of Excellence Ceremony took place April 19-22, 2018. Students and organizations were recognized for outstanding work performed throughout the school year. The winners representing the Health Sciences Division include:
Anya Nikolai and Abigail Cannon with Women in Science for Outstanding Organization Award
Sahand Ghodrati won for Outstanding Student Leader
The Health Professionals Recruitment and Exposure Program (HPREP) won for Outstanding Program of the Year
Victoria Nguyen - Damen Award Recipient
See all of the award winners from the Weekend of Excellence.
---
Alpha Omega Alpha
Michael Murphy (MD '19), was awarded the Alpha Omega Alpha Carolyn L Kuckein Student Research Fellowship for 2018-19 for the "Patient compliance of weight bearing status-prospective observational study."
---